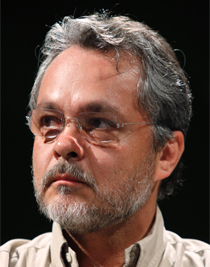 Marco Lara Klahr has been a legal journalist for 34 years and graduated from UNAM. He has reported, lectured and led workshops in 27 countries. Articles and chapters from his books have been translated into English, Portuguese, French, Italian and German.
He is Director of the Media and Access to Information Program of the Instituto de Justicia Procesal Penal, Director of Otromexico and Web Editor of presunciondeinocencia.org.mx. On Channel 22, he hosts the program El Observador and is head of Information in Global .
He is a member of the Latin American team conducting the "Worlds of Journalism Study" (University of Munich), is a member of La Voladora Radio 97.3 FM and publishes the blog Edad Medi@tica.
He has been a consultant for the Open Society Justice Initiative (2006-2012),a member of the Advisory Board of El Universal (2012), a founder and coordinator of the Project on Violence and the Media (2004 to 2012), and the director of the Investigation Unit of El Universal (2008-2009). In addition, he served as editorial coordinator of El Rotativo on Channel 22 (2007-2008), academic coordinator of the The Press and Deomocracy Founation (2006-2007), postgraduate professor at the Carlos Septién García School of Journalism (2008 – 2010), and founding director of the editorial Al Este del Paraíso (1993-1995) among other activities as a reporter, editor, scholar and activist.
His most recent books are Policía y Medios. Manual de policía para la comunicación institucional y la relación con los periodistas en el nuevo sistema penal acusatorio [USAID, 2014] and Extorsión y otros círculos del infierno (Grijalbo, 2013).  He received the National Journalism Award in 2009 (for transparency) and 2000 (for reporting) as well as other awards for his work on the promotion and protection of rights. He is a member of the jury panel for the Walter Reuter PremioAlemán de Periodismo Walter Reuter.