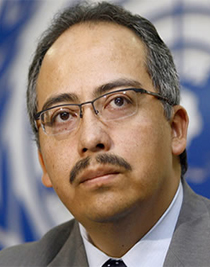 He joined UNAIDS in January 2007 as Director of UNAIDS Regional Support Team for Latin America. He brings over twenty years of experience in managing HIV and international public health programs, with extensive knowledge of global and regional political, economic, social and epidemiological trends and the AIDS response.
Dr Núñez provides leadership and support for an effective and coordinated United Nations system response to HIV in Latin America. This includes promoting a conducive policy environment to allow for the expansion of HIV prevention, treatment, care and support programmes. Dr Núñez leads the office in supporting countries to achieve the targets set out in the 2011 Political Declaration on HIV and AIDS.
Dr Núñez works closely with a large number of regional partners including governments, civil society groups, governmental caucuses and specialized entities to ensure continued commitment to and engagement in the AIDS response in Latin America.
Earlier in his career, Dr Núñez worked as Director of the National AIDS Programme of the Ministry of Health in Honduras; he also served as Deputy Director of PEPFAR/USAID Regional Program to Strengthen the Central American Response to HIV.
Dr Núñez, a national of Honduras, trained as a physician and surgeon and has a specialization in International Public Health from the University of Washington in Seattle, USA.