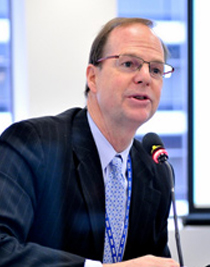 He assumed the position of Executive Secretary of the Inter-American Drug Abuse Control Commission (CICAD) of the Organization of American States in 2011. At the State Department, he held a series of senior positions in Latin American affairs, international narcotics and law enforcement policy, and international energy and economic policy. He also served as a faculty advisor at the National Defense University and a senior fellow at Yale University's Jackson Institute for Global Affairs, teaching seminars in Latin American studies, diplomatic tradecraft, and strategic leadership.
He was U.S. Ambassador to Chile from 2007 to 2010. Before being posted to Chile, he served as Deputy Assistant Secretary of State for Energy and Sanctions. Previously, as Acting Assistant Secretary of State for International Narcotics and Law Enforcement Affairs. During this period, he served as U.S. Commissioner to CICAD, testified regularly before Congress on U.S. drug programs in the hemisphere, and maintained close contact with media and civil society groups. He previously served as economic counselor at the U.S. Embassy in Quito, Ecuador. His first Foreign Service posting was at the U.S. Embassy in Bogota.
Outside of Latin America, he was Deputy Chief of Mission and Charge d'Affaires at the U.S. Embassy in Israel. His previous postings include a tour on the State Department's policy planning staff and an assignment as international economist at the Treasury Department during the debt crisis of the 1980s. Before joining the Foreign Service, Ambassador Simons worked in international corporate lending at a New York-based commercial bank.
Ambassador Simons holds a B.A. degree from Yale University and a M.B.A. in Finance from New York University.