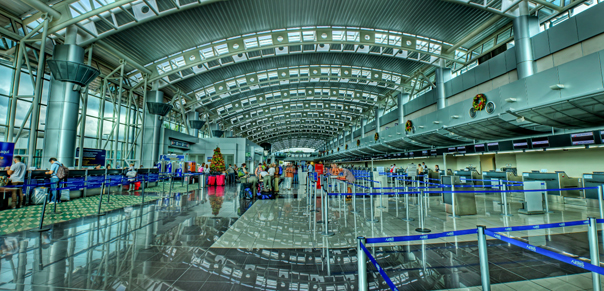 EMBASSIES AND CONSULATES IN SAN JOSE
It is always recommended to have your Embassy's information in advance when visiting a foreign country. Click here and select the appropriate option.
AIRPORT Juan Santamaría International Airport
Panamericana Hwy, Alajuela, Costa Rica
+506 2437 2400
The public transportation system in Costa Rica allows visitors to access most of the country. The Juan Santamaría International Airport is no exception; there is a bus stop to several destinations which is located less than a block away from the terminal exit. There are buses every five minutes that can take you to/from the airport from/to:
• Downtown Alajuela (15-minute ride). Fare: ₡535, approximately US$1.05
• Downtown Heredia (40-minute ride). Fare: ₡385, approximately US$0.76
• Downtown San José (35-minute ride). Fare: ₡535, approximately US$1.05
If you plan on taking the bus from San José to the airport, you must inform the bus driver of your destination, so that he/she can plan on stopping at the airport bus stop and providing you with the service. Bus stations in San José are located on 2nd Avenue, north side of the Nuestra Señora de La Merced church.
Taxis Unidos is the airport's official taxicab company, and will provide you with 24/7 transportation to and from the airport. This company has insurance and is up-to-date on operational permits, as regulated by the airport's administration. There is a customer service office located in the International Departures area, next to the car rental section. Here, you may find information to help you plan your trip safely. These official cabs are orange-colored. None of the other land transportation or taxicab services are authorized by the JSIA administration.
You must pay a departure tax, currently $29. This tax applies to both citizens and foreigners, minors and adults. It may be paid at the Bancrédito counter located in the airport or at any of the affiliate collectors found in the following link.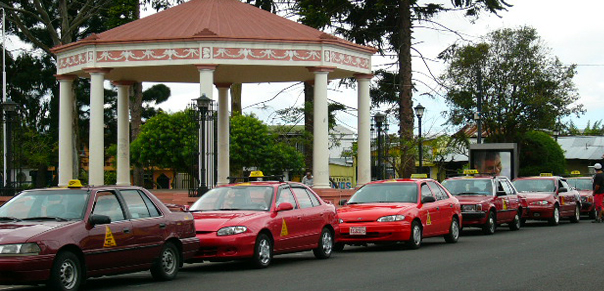 INTRA-CITY TRANSPORTATION
The city has a transport infrastructure within the metropolitan area and between it and the rest of the country.
Buses. The bus system is affordable and excellent, to destinations anywhere in the country. The capital has a dense network of bus routes both within the urban territory to all Costa Rican provinces, and to the rest of the Central American nations and Mexico. Most routes depart from San José.
Taxis. Taxis are the quickest and most convenient way to travel around town or the suburbs. Official taxis are red – with a license as a yellow triangular shield painted on its side – all of them should be equipped with meters called maría but many drivers try not to use them, especially if a tourist gets in. That being said, it is illegal not to use the meter. However taxi drivers are not required to use the meter when the destination is outside of the metropolitan area limits, including the airport. In these cases, you should negotiate the fare before starting the journey.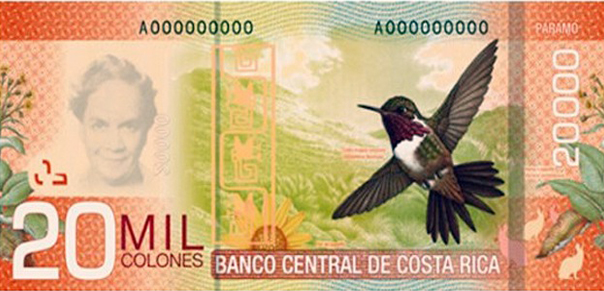 MONEY EXCHANGE
The unit of currency in Costa Rica is the colón. The colón is divided into 100 céntimos. Currently, two types of coins are in circulation. You'll find gold-hued 5-, 10-, 25-, 50-, 100-, and 500-colón coins, as well as light-weight silver-colored alloy coins in the 5- and 10- colón denominations. There is a branch of the Banco de San Jose (BAC) at the airport so you can change dollars for colones there or at any of the many banks scattered throughout the country. The exchange rate is currently around ¢559 and ¢572 colones to $1.00 U.S. and can fluctuate without notice. Paying with U.S. dollars in Costa Rica should not be a problem. Sometimes Costa Ricans prefer it because they see the dollar as a more stable currency than the colon. In the city most businesses will accept major credit cards (Visa, Master Card, AMEX), however in the outlying areas cash is preferred and many establishments will add a surcharge of around 4 – 6 1/2% for credit card transactions. There are numerous ATM's around that work on the Cirrus, Star, and Plus systems so don't forget your PIN. Most banks are open from 9:00 am to 3:00 PM on weekdays.
Climate: Temperatures range between 18 and 26 degrees Centigrade and rain and strong winds are not uncommon in the month of September.
Time Zone: UTC-6:00
Altitude: 1,170 Meters
Voltage: 120 Volts. Type A & B plugs
Those who want more information about tourism and activities in San Jose can visit the official tourism website here.