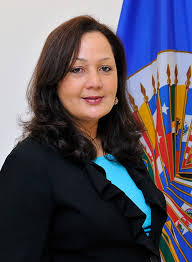 Lawyer and Dean of the Faculty of Law at the University of the West Indies, she also holds the Chair as Professor of Labour Law and Offshore Financial Law. Her career has embodied wide and diverse scholarly activity, public service, representation and activism. Professor Antoine's specialist subject areas are Offshore Financial Law, Labour Law, Anti-Discrimination Law, Public Law (human rights, administrative law and public service law), Legal Systems/ Comparative Law as well as on laws concerning HIV, corruption and drug trafficking.
She also served as a Commissioner of the Inter-American Commission on Human Rights from 2012 to 2015.
She has worked for a number of public and private bodies as a consultant, including the governments of Venezuela, the United States,  the UK and Canada. Also organizations such as the European Union, UNICEF, UNIFEM, OIT, the World Bank among others.
She holds a Bachelor of Law degree from the  University of West Indies, where she was the Irvine Hall valedictorian. In addition she holds a Master of Law degree from the University of Cambridge, where she was a Pegasus Scholar, and a Doctor of Philosophy degree in law at the University of Oxford.
Professor Belle Antoine is also a partner in the law firm, Antoine & Antoine which specializes in human rights and administrative law, a position she has held since 2006.