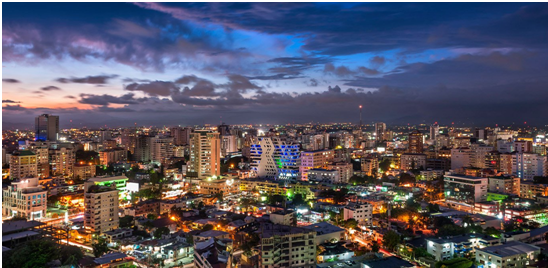 The Dominican Republic's capital, Santo Domingo, is well known for being the place of the first European settlement in America, and for being the first headquarters of the Spanish colonial government in the New World. Situated in the middle of the Antilles, in the Caribbean Sea.
Santo Domingo is one of the biggest cultural, financial, political, commercial and industrial hubs in the Dominican Republic as well as being the country;s main port. The main area for economic and financial activity in the capital is consolidated in the main metropolitan area, also known as central polygon, placed between the principal avenues (February 27 th , Abraham Lincoln, Winston Churchill, Lope de Vega, Tiradentes y J. F. Kennedy).
Santo Domingo and Santiago de los Caballeros are the Dominican Republic's most important cities, because of their GDP, and their $36 billion purchasing power. They are also the most populous cities in the Caribbean. Located in Santo Domingo are the first cathedral and the first castle of America; they're both located in an area called the Colonial City, this zone was declared as a World Heritage Site by UNESCO. The Colonial City is one of the most important touristic places in Santo Domingo and the most visited in the Dominican Republic, this extraordinary place contains 500 years of colonial and Dominican history. This settlement founded by the family of Christopher Columbus, contains and preserves the entire colonial architecture of the ovadina city. Known as the Columbian architectural model, this unique architecture can be seen in monuments, churches, old houses and parks. History and entertainment converge in an area full of discos, restaurants, museums, monuments, craft markets and with old gardens and streets.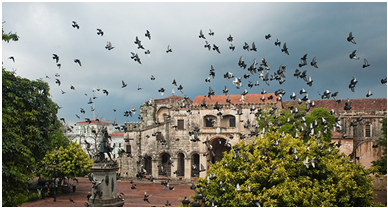 You can hire private guides (there are many companies), among them the famous Chu-
Chu Train that will lead you to all the important places, museums and monuments on a mini-city- tour, or Zona Bici, but you can also feel the pleasure of walking by its streets as
you discover the beautiful willows and the doves of the Columbus's family house, which
still preserves the original furniture, in front of a beautiful square placed on a site full of restaurants near the Ozama river and the tourist port where cruise ships arrive.
The weather in Santo Domingo is typical of the tropical Caribbean coast, with a nice
temperature during the year, with average annual temperature of 75º to 79º F. The rainy season in Santo Domingo goes from May to October, and the rest of the year is quite sunny and the temperatures are around the 79ºF degrees. Moisture it's relatively high throughout the the year.